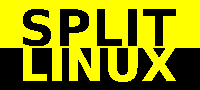 Two new distributions (Sulinox and Split Linux) to keep an eye on were added on our 2 lists of systemd without systemd.  The early first list of all systems we know without systemd (including BSD varieties) and our more detailed list of 66 linux distributions without systemd.
The first is called Sulinox, an independent linux distribution, built on glibc with OpenRC as init, a base software available on repositories with a few varieties of desktops, and elogind present, available for X86_64 architectures.  The distribution is aimed at expert users who know and like to build packages from source.  To do so in a more organized way and maintain system integrity Sulinox has developed their own package manager called inary.  For those of you who like to keep an eye on the source repository of a distribution and follow development in detail we warn you that comments are in Turkish, although the rest of the documentation for the distro and the package manager is written in English.
The next new find is Split Linux, which is the second known distro after Trident to use Void Linux as its base (Trident which last year moved from BSD and employs its zfs technology application  is the other).  Split uses musl for its image building but installations can be done with either musl or glibc.  Split emphasizes the importance of network setup to enhance security, anonymity, privacy, through various techniques.  When you boot the system up take a look at its networking setup and runit's enabled services.  There are bridges, virtual interfaces, where you can direct all internet traffic through a tor port, there are container solutions such LXC and docker running as well.  What you do beyond the initial setup and your installation is up to you, but having to setup all this on your own from scratch can take days of trial and error and much studying and skill.  Booting to an encrypted volume, efi or legacy booting, are all possible from installation.
You have to give this a try even if you are not into so much privacy, anonymity, security, and containerized application use.
For being beta projects still both of those distributions seem very promising with Split Linux stealing the show for anything complex we have ever tried.
A more detailed review on Split linux will come soon, after we can digest all the systems it incorporates into on simple linux installation.  We have to admit we have been scratching our heads too many times trying to comprehend all the work they have done.